Have you ever noticed a group of tweets with the same # (hashtag)? It might mean that someone you know is participating in a TweetMeet (also known as a Twitter chat).
A TweetMeet is when people "meet" by tweeting with a specific hashtag during a designated time frame.  Questions may be tweeted live or posted ahead of time and you respond by using the letter A (for answer) and the question number. For example, Q1 What do you do? might be answered with A1 I work in technology and then the hashtag.
Coming up on December 17th, there is a MASSIVE TweetMeet that will be the perfect chance to try out a TweetMeet, if you haven't already, with an incredibly supportive group. Microsoft Education hosts a TweetMeet once a month using the hashtag #MSFTEduChat and a hashtag for the topic.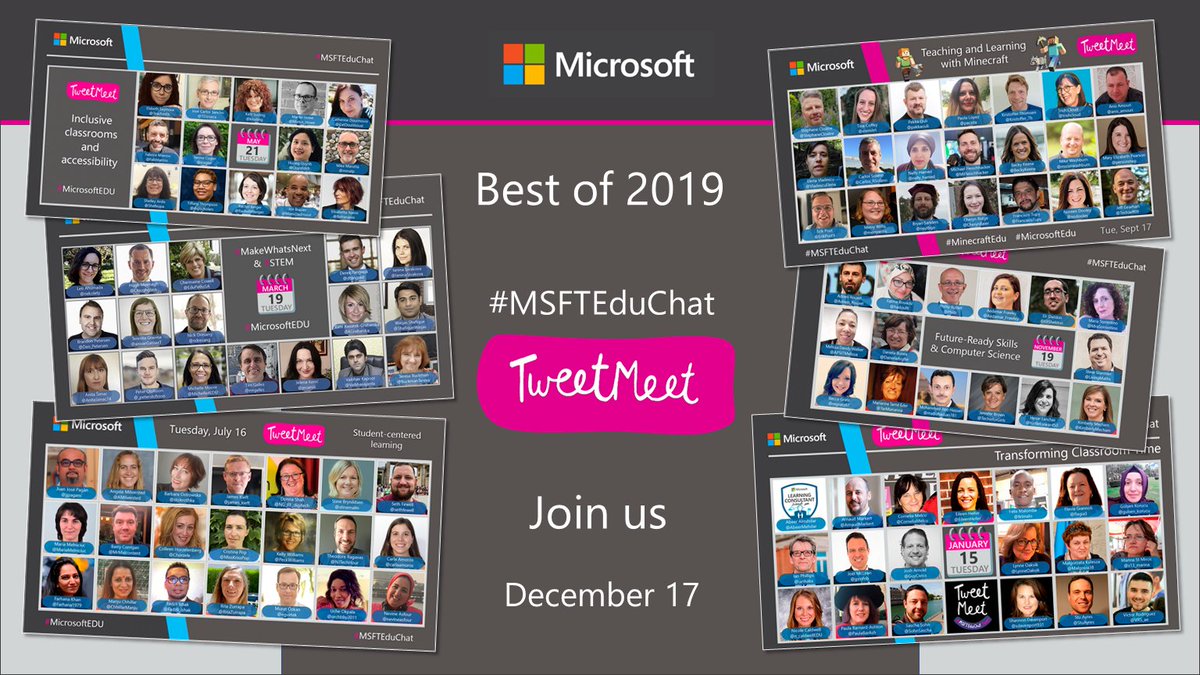 December's topic is going to be EXTRA special! Former #MSFTEduChat hosts have been invited back for a #BestOf2019 event. About 290 former hosts are facilitating (including me!), inviting others around the world. 
Back in 2017, I was asked to be a host for the Inclusive and Accessible Classrooms TweetMeet. Being asked to participate as a host was an incredible honor and I've kept in contact with many of my fellow hosts. At the time, I had no idea what to expect and was astounded by all the organization from Excel spreadsheets to image files to schedules culminating in a live Skype call with the other hosts during the chat.
The day of the chat, I was at the school where I used to teach to give internet safety assemblies so in between assemblies, I sat on the stage, headphones on, and dove right in. At the time, the #MSFTEduChat didn't have all the language tracks as it does now and I am continually impressed to see the program shift and grow. It can get a little difficult to follow with so many participants so I often go back later to search and see what wonderful tweets I may have missed. If you speak another language, you can filter the tweets for your language, but, at this time, there isn't a # for English. I would love to see one in the future. The TweetMeet can go by so quickly that I don't always have time to use the translator in Twitter to read through tweets and I know I risk missing fabulous contributions.
IN THE MEANTIME,  @TweetMeetcame up with a search string for Twitter that works well. For TweetDeck the search string is #MSFTEduChat lang:en.
This month, there will be TEN other languages, each with its own hashtag. For example, #TweetMeetES for Spanish.
During (or after) the event, search #MSFTEduChat on Twitter then click Latest for the most recent posts. Some prefer to use TweetDeck. Twitter has directions for using TweetDeck and you might find this YouTube tutorial by Marjolein Hoekstra helpful. She is one of the #MSFTEduChat organizers (who is also an amazing OneNote guru!) Find her on Twitter @OneNoteC and I also suggest you follow the @TweetMeet account.
All are welcome to following along, but replying and participating in the chat is SO MUCH BETTER!
"But what if I'm not available at that time?" No problem! When able, search #MSFTEduChat to add your thoughts to the conversations or pre-schedule your tweets with TweetDeck. A few times, I have been busy during the window so I go on later and type #MSFTEduChat and then Q1 or A1 to see the questions and answers. Then Q2 and A2, etc.
Here are the questions and times:
I am so grateful to be a repeat host and have learned a lot during the process. In fact, I now co-host 2 much smaller monthly Twitter chats: #HybridEdu one Thursday a month at 6pm PST with @VictoriaTheTech and #SpEdTechChat the first Wednesday of the month at 8pm PST with @KristinOropeza. Both are archived in Wakelet and, thanks to hosting the #MSFTEduChat, I've learned to use TweetDeck to schedule the question tweets allowing me to relax and enjoy the conversation without watching the clock too much.
You can also learn more about TweetMeets on the Microsoft Education blog. Hopefully you will be able to join us!